QinQ
Take control of your infrastructure.
Do you want to be in control and take responsibility for your own and your customers' infrastructure? Then we can recommend working with QinQ and segmented VLANs (Virtual Local Area Networks).

With QinQ you get the opportunity to set up your own VLAN between points. You also achieve a new level of efficiency and the ability to easily optimize and refine customer networks over time.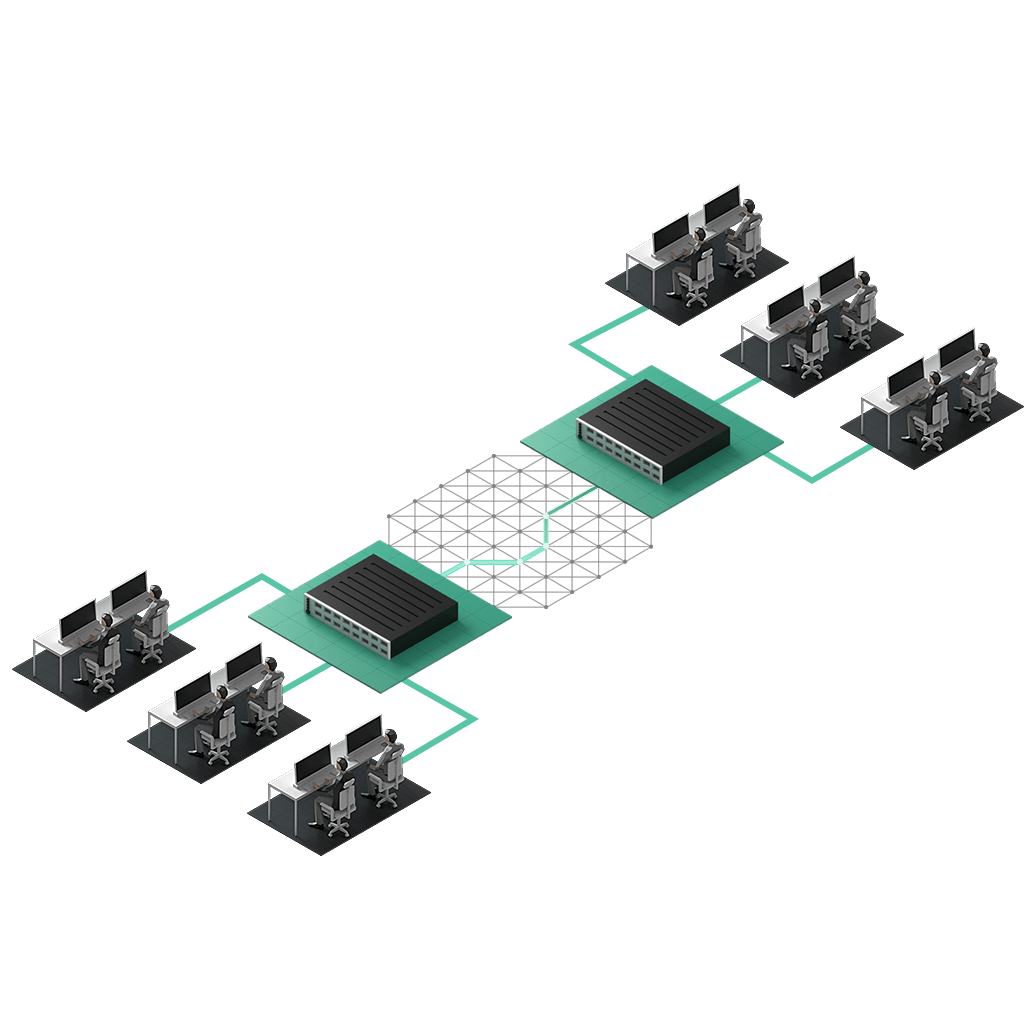 What is QinQ?
With QinQ you can encapsulate multiple VLANs in one VLAN.
This gives you the flexibility to create segmented traffic on demand. Over time, network changes will certainly take place, and when they do you can act quickly and resolutely. See the value in being able to create several VLANs without external help.

The QinQ standard is traditionally used to create a "tunnel" where packets are routed according to the "internal" VLAN tag at the tunnel's destination. On the route between point A and point B, traffic is routed according to the "external" VLAN tag.
qINQ
Efficiency and opportunity.

Maintain internal network segmentation across geographical boundaries for true isolation of traffic flows.
Läs mer
Talk to our network experts to learn more!
Layer & Mesh – QinQ:
Isolation
Control traffic without using Layer 3 and VPNs. VLAN + QinQ provides complete control as close to hardware as possible.
Control
Maintain internal VLAN segmentation on the other side of a point-to-point connection for optimum control of traffic flows. Design the solution that best suits the customer and situation.
Scalability
As long as there are internal VLANs to utilize within the organization, an "external" duplicate can be tunneled in. Regardless of complexity, the solution can be scaled according to your needs.
Add-on services:
VLAN
Connectivity between geographically separate offices and important hubs, such as data centers or virtualization clusters, is a prerequisite for an effective digital infrastructure. Take control with our VLAN services.
Virtual Data Center
Virtualized infrastructure for companies of all sizes. Purchasing, installing and maintaining physical hardware should no longer be concerns for those who want to manage servers. With our triple redundant virtualization clusters, you can build a custom solution and scale up and down as needed.
Colocation
Places the company's servers in the data center that matches the customer's requirements. Find the right alternative with our Standard, Edge, and Enterprise Data Centers.