Public Cloud
Individual physical servers or clustered private cloud?
It is neither scalable, economically sound, nor environmentally feasible to maintain and deploy physical servers. There are many benefits of choosing a Public Cloud solution. Save the investment into hardware, licensing, maintenance, and deployment — not to mention the difficulty of acquiring ambitious and knowledgeable staff. Our vDC, or Public Cloud, is spread out across three geographically separate data centers in Stockholm. Everything is based on the infrastructure of our Mesh Metro Network. This creates reliability, redundancy, and exceptional security. If necessary, we can even set up extra resource pools on demand. Virtualize your infrastructure today and future-proof your business.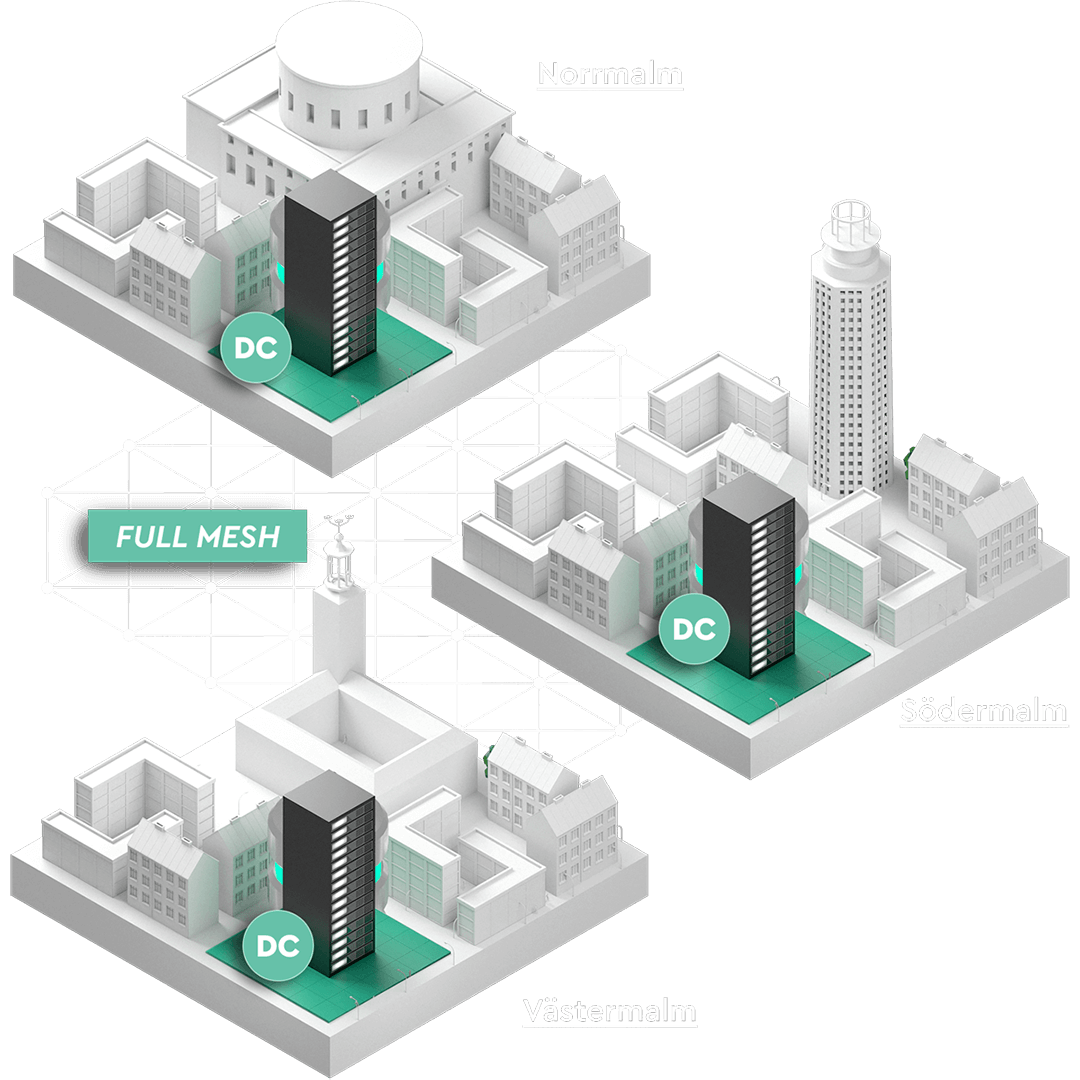 What is a Public Cloud?
Share resources and costs. Access infinite capacity!
Few companies have the staff or capacity to build and maintain their own infrastructure. Until now, only large enterprise companies have had this luxury. A Public Cloud provides direct access to large pools of resources: CPU, RAM, SSDs, and disk space. The user controls these resources via an intuitive web interface. All data is naturally separated from other users of the cluster. This is a climate-smart and economically advantageous choice where you share costs and have access to endless scalable resources.
Environmentally Friendly
Why not?
Today many computers are an underutilized resource. Like many cars, they are parked at homes and businesses where they lay dormant much of the day. This is a significant waste with a gigantic environmental footprint. We are facilitating a rapid change in development with a focus on shared resources. Buy only the performance you need, at the lowest cost and with the least possible impact to the environment. Join and cut your company's costs and environmental footprint.
Layer & Mesh – Public Cloud
Scalable
To buy, deploy, and maintain physical servers as a company grows takes time and raises costs. These are static resources that may be wasted if the company unexpectedly decreases in size. With just a couple of clicks, a virtual server can be scaled to fit your needs and budget.
Simple
A cloud solution is, contrary to popular belief, not just for the tech savvy. The virtualization cluster is managed and maintained by Layer & Mesh so you can concentrate on your core business. A file or a print server can be ordered and deployed within half an hour, with full connectivity from your office's LAN. It couldn't be simpler.
Affordable
No heavy investment needed to purchase, deploy, or maintain servers. Adjust the virtual infrastructure according to planned usage instead of relying on expensive and static physical hardware. Pay for what you need when you need it.
Add-on services:
FWaaS
Protect your resources with our virtualized firewall. Security internally and externally with minimal complexity. Easy management, fast setup, and firewall rules that can apply to one or more underlying LANs.
Colocation
If a purely virtualized environment does not fit the requirements, there are several options. Combine cloud with colocation solutions and build a hybrid environment or look for an Enterprise or Edge DC solution to meet stringent requirements regarding security or self-managed hardware.
VLAN
A Public Cloud environment in sync with Layer & Mesh's communication solutions can lay the foundation for a powerful and cost-effective infrastructure for companies of all sizes. Within our fiber network, speed and latency are never a problem. We can move data as fast as an SSD can write the data to disk.