VLAN
Point-to-point traffic completely isolated from the Internet.
Tired of insecure and sluggish VPN connections? Good! So are we. Traffic can now travel completely isolated from Internet-routed traffic. We call this switched network service VLAN.

Day by day the Internet is becoming less secure. Due to this unfortunate development, more companies are realizing they have to take control of their business-critical traffic. One of the simplest solutions is to move traffic away from the Internet and to the layer 2 domain. Free yourself from the Internet as the carrier of all communications. We help you build a switched network with the network "under" the Internet.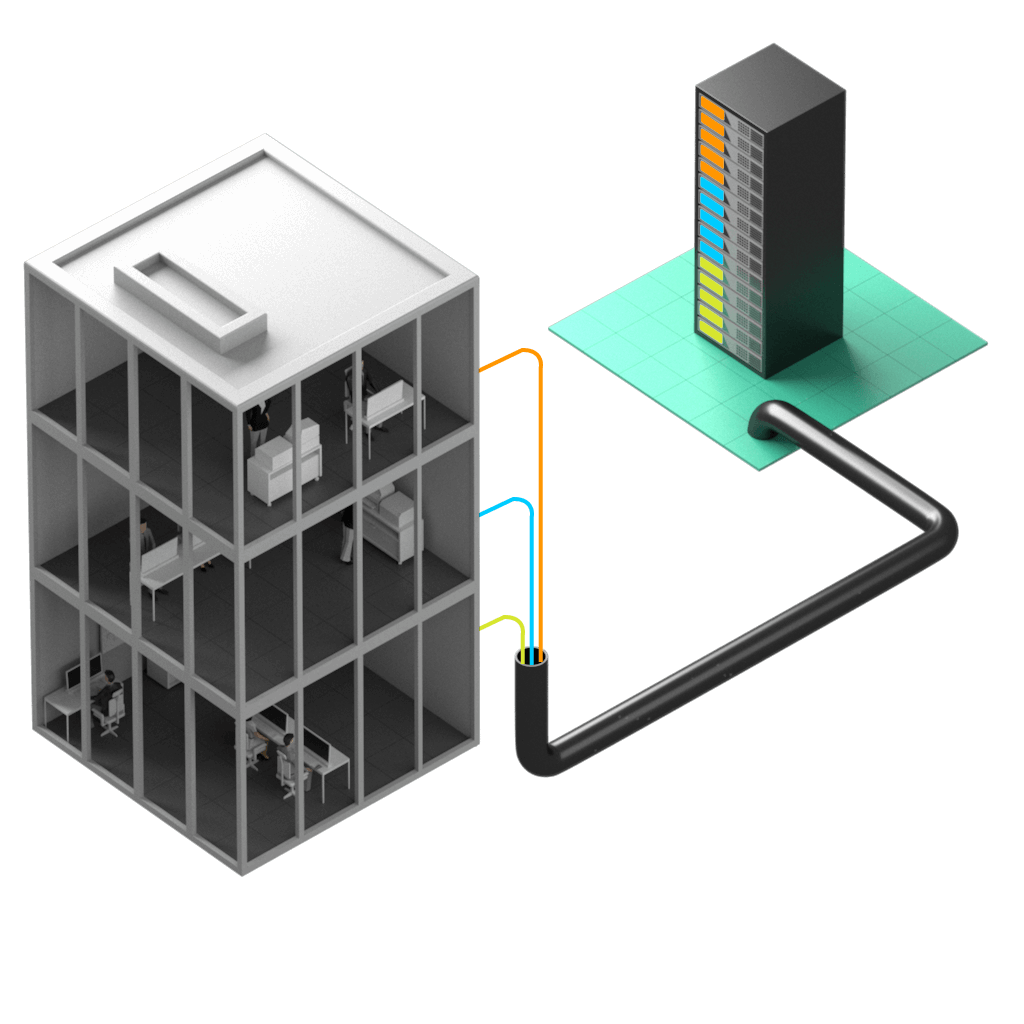 What is VLAN?
A technology for segmenting and isolating traffic between points.
A Virtual Local Area Network (VLAN) is used to segment traffic. This is especially desirable for security reasons but also for latency requirements.

The advantages of VLANs are many: avoid problems with unstable Internet connections, build your own networks, reach and troubleshoot customers' office networks, switches, and firewalls, and set up everything via your own direct connections completely isolated from the Internet.

Layer 1 – the physical carrier of traffic. Usually copper, fiber, or air with 4G and 5G traffic.

Layer 2 – the switched traffic between two or more points. This traffic is often directed via VLAN or QinQ.

Layer 3 – the routed traffic between two or more points — also known as the Internet.

Advantages – VLAN:
Capacity
VLAN segmentation on Layer 2 always provides maximum capacity. Traffic flows at the speed of the switch port without exception.
Efficiency
Improve organizational efficiency through collaborations across geographical boundaries without compromising the user experience.
Scalability
A VLAN connection can be extended to a near unlimited number of links. Scale your infrastructure solution as needed.
VLAN from Layer & Mesh
Security
No need for VPN tunnels or other services to ensure that traffic is not intercepted. A VLAN service never touches the routed layer — it switches on layer 2 all the way from office to office.
Availability
In our meshed metro network there are over 2500 routes. If one or even several links are down, the traffic simply chooses another. Failover happens immediately.
Simplicity
A private VLAN between two or more points is just a few keystrokes away.
Add on services:
QinQ
Complete control of QinQ tunneling with simple configuration. Customize traffic flows within your IT environment using Layer & Mesh's QinQ service.
Virtual Data Center
Virtualized infrastructure for companies of all sizes. Now you can manage servers without purchase, installation and maintenance of physical hardware. With our triple redundant virtualisation clusters, you can build your solution exactly as you want it and scale as necessary.
Colocation
Place the company's servers in the data center that matches the customer's requirements. Find the right alternative with our Standard, Edge, and Enterprise Data Centers.