Showroom
Our showroom is your showroom.
We have created a lively meeting place for partners in the middle of central Stockholm at Tegnérgatan 4. Together with the German data center manufacturer RITTAL, we have transformed a turn of the century store which previously sold vinyl records into an ultra-modern EdgeDC. Use the showroom as a tool in your work process. Business is created here!

We invite you to be inspired with 24/7 access to this fantastic environment.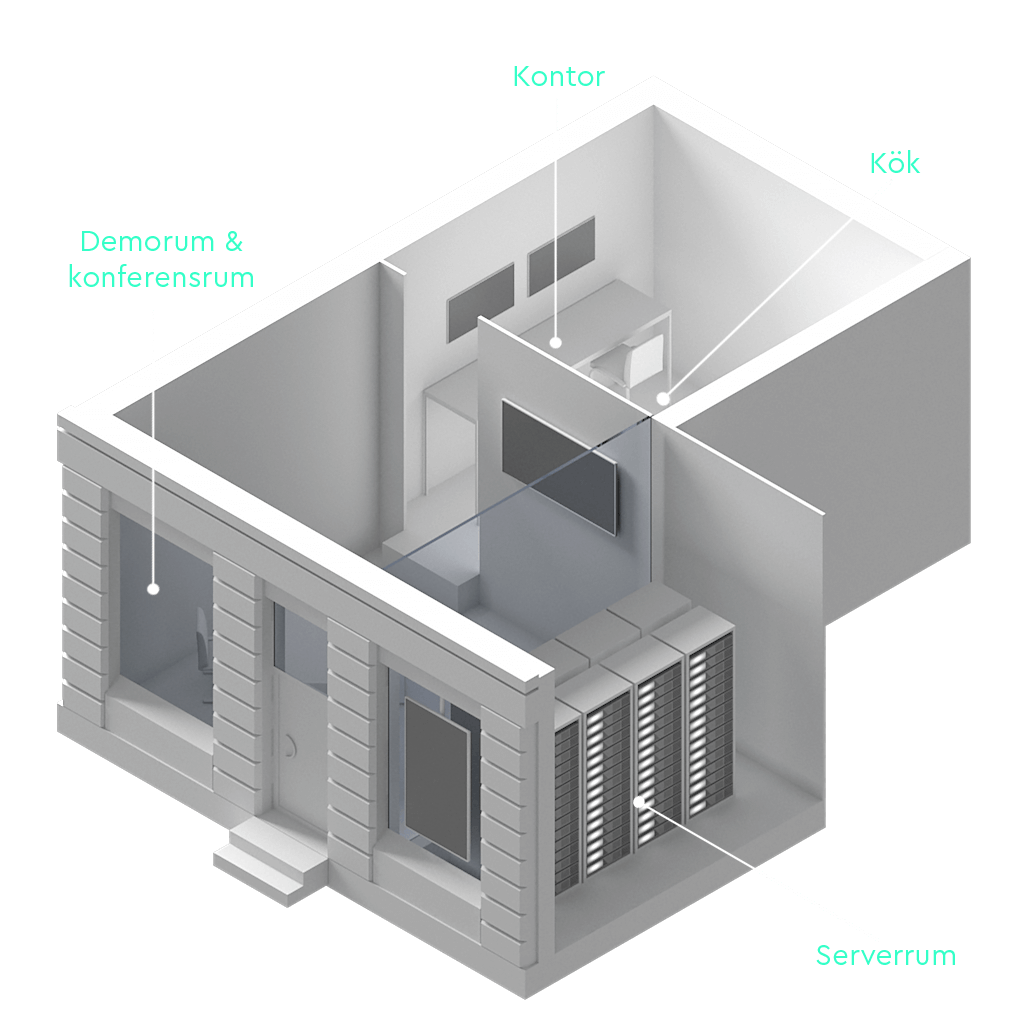 Meetings and demo
The venue is ideally suited for parties of 10 or fewer.
With top restaurants around the corner, a presentation can end with a delicious lunch and proximity to Stockholm's public transit. We can even provide an Infrastructure Expert from Layer & Mesh if you would like support or a deep dive in one of our areas of expertise.
Kitchen
With a great network and great coffee, you can do wonders!
In the kitchen you will find a Nespresso Gemini Pro coffee machine, a Nespresso capsule for each preference, and a refrigerator full of refreshments.

The kitchen is also outfitted for preparation — complete with two workstations including computer monitors and network outlets.
Events
Workshops
We have several events during the year where there are opportunities to meet and network. You can also utilize the showroom as a tool and inspiration for everyday work. Our showroom manager welcomes you with knowledge, coffee, and refreshments.
Our showroom has access to the following:
EDGE DC
In this showroom we exhibit the network and IP based services of the future. The showroom is unique as it is also a fully functional EdgeDC. An EdgeDC is a smaller server room located right on the edge of the network, near the destination (edge) and the user. It is often connected to several other EdgeDC's that in turn connect to EnterpriseDCs. This is a relatively new form of infrastructure that facilitates extremely short distances between the platform where the service is installed and the recipient of a cloud-based service. EdgeDCs help deliver a high level of redundancy and extremely low latency.

Today we work with nearly 30 EdgeDCs around Stockholm where each is responsible for its own geographical area.
SECURITY
Our showroom has high physical security and direct connection to emergency services. We have different permission zones which require specific permissions for entry into the server room. The showroom is monitored by camera and is equipped with advanced sensors for detection of smoke, humidity, water and other foreign substances. The server room houses several RITTAL 52u racks that are individually enclosed in locking cylinders. To achieve an efficient flow of hot and cold air, the room is equipped with a hot and cold barrier which enables an effective cooling system. We have also installed a fully automated Novec 1230 fire suppression system capable of suppressing a fire with minimal impact on equipment and people. In order to access the server room, one is required to read and approve our safety regulations and conditions of use.
SCREENS & PRESENTATIONS
The venue is equipped with two SAMSUNG 55-65″ screens — one of which can be used for presentations. We also have two 27″ screens with interface for all computers.

Feel free to hold your presentation on the wall-mounted SAMSUNG 50″ screen — complete with both Chromecast and Apple TV. The screen is mounted with Multibrackets' moving wall mount and arm which makes it possible to angle and tilt the screen to achieve the best possible picture.
COFFEE
With a brand-new Nespresso Gemini Pro, you can quickly serve your guests a good cup of coffee. The double extraction head enables the machine to prepare two perfect coffees simultaneously. Naturally, we have a variety of Nespresso flavors to suit your taste.
DEMO
We want you to feel comfortable in our environment. Ask us for a demonstration of the showroom, or why not include us in your presentation? We'll be happy to tell you more about how we build Full Mesh and EdgeDC infrastructure in 15 minutes or less.
CaaS
Are you curious about the technology of tomorrow or do you just want to be updated on the latest in Layer & Mesh's product range? We invite our partners to four annual meetings to discuss, educate, and learn from each other. Join us in our partner programs and we will make the road by walking.
Book our showroom
Network - coffee - servers