Private vDC
We create a virtual Data Center exclusively for you.
Dedicated hardware and total isolation in several geographically separate Data Centers gives you the highest level of security and availability. You take control of service windows, updates, resources, and everything else that affects your infrastructure and operation. Focus on operations and customer relationships — let us handle the infrastructure.

You no longer need to shut down services to upgrade performance nor deal with service windows and weekend downtime. Of course, it is also possible to scale performance without any service interruption.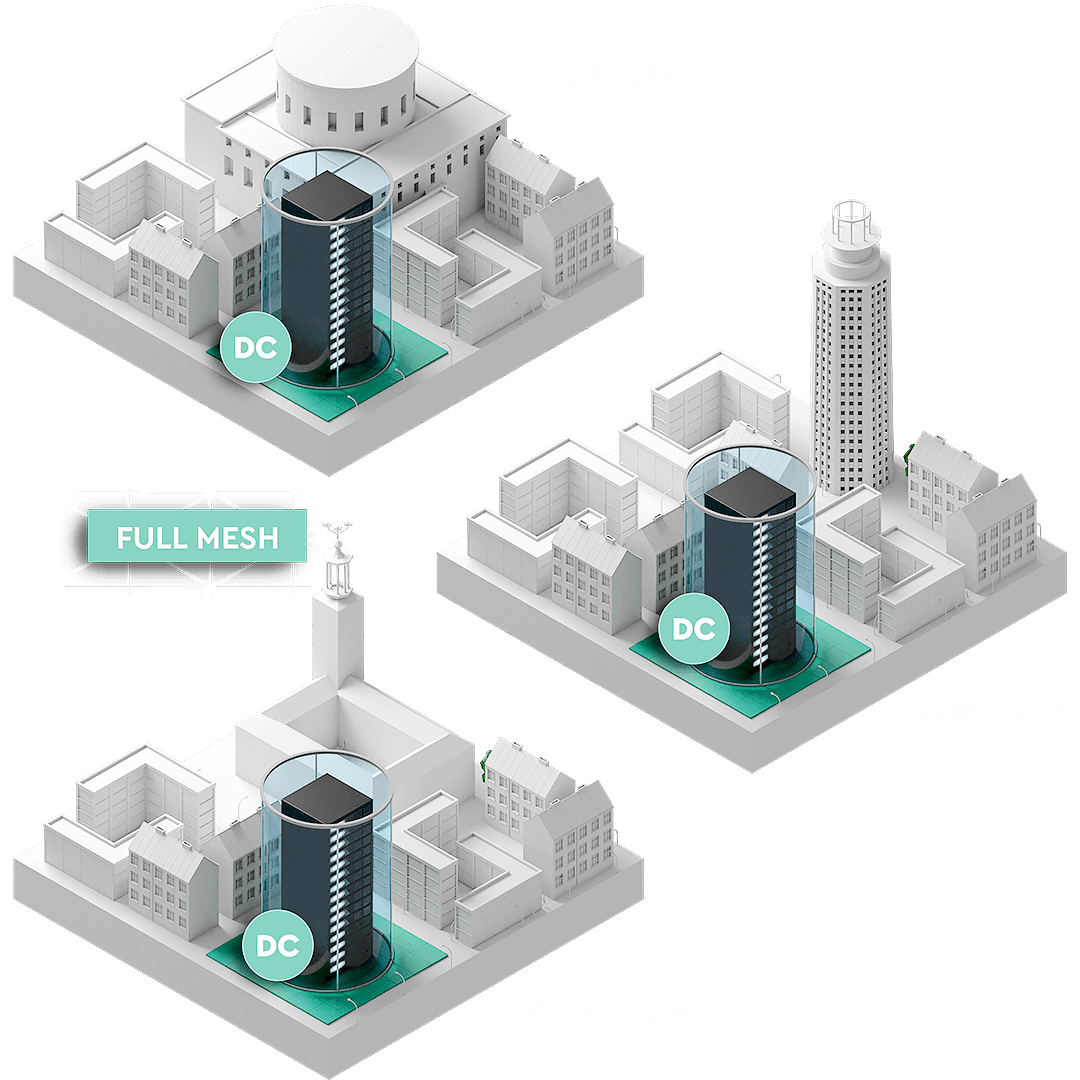 What is private vDC?
Exclusive virtualization clusters.
As the name suggests, this is a virtualization cluster used exclusively by a single customer. Large pools of computing, storage, and networking resources are linked by software to provide the user with a virtualization platform.
Do you have questions? Talk to our virtualization experts!
Specifications
Layer & Mesh bespoke Private vDC
Which performance and platform solution should you choose for your vDC? We work with well-known manufacturers and select hardware with the best performance. We also assist with knowledge and advice during the transition. Naturally, everything is built according to your needs and wishes.

These are our minimum recommendations:

Processing
From 60 cores + Hyperthreading
Memory
From 2300 GB RAM
Storage
From 24 TB NVMe redundant space
OpenStack
Open-source software for private and public clouds.
Some of the world's largest companies support the development of OpenStack. This has led to a rich and vibrant development community. Every day, thousands of developers help to make the software better, more robust, and more secure.

In the hands of skilled engineers, OpenStack becomes a powerful tool for building top-tier cloud infrastructure.
Private Virtual Data Center – Benefits
Control
A private virtualization cluster gives the customer exclusive rights and total control over the computing resources of their cloud. Within the framework of an individual cluster, all possible and impossible infrastructures can be created.
Scalability
OpenStack software has widespread support for expanding hardware resources without service interruptions. The cluster can grow as the customer grows.
Security
A private cloud makes the customer's resources more secure than ever before. Total isolation gives the customer freedom to focus on the core business.
Private virtual Data Center from Layer & Mesh
Availability
Your vDC cluster is woven into our Meshed Network. 100 Gbit/s fiber links with redundancy ensure unmatched availability.
Security
Layer & Mesh's engineers have extensive experience in designing and maintaining complex services. We have taken the concepts behind the very best cloud solutions and developed them further. It doesn't get any safer than a completely isolated virtualization environment.
Capacity
Experience virtualized services that respond as if they were running on a server right next to you. Minimal latency and maximum capacity provide a seamless experience.
Add-on services:
Virtual Fiber
A LAN can now extend between Luleå and Malmö, via Stockholm, without complicated configuration. Connect to the company's internal network wherever you are with our Virtual Fiber service.
Interconnect
Connect your private clusters to dedicated servers in our affiliated Enterprise Data Centers and build a hybrid environment with the best of both worlds.
VLAN
Connectivity between geographically separate offices and important hubs, such as data centers or virtualization clusters, is a prerequisite for an effective digital infrastructure. Take control with our VLAN services.